I have always written about vintage style from my own perspective and how I like to dress. After a suggestion for future writing, I thought it would be interesting to look into vintage style menswear. Despite my husband not dressing vintage himself, he enjoys military history and has expressed an interest in wearing vintage to an event.
I would say from first glance that it would be easier to transition to a vintage style for the gents: shirts, trousers and suspenders are easier to come by! There are other eras to be styled which I will go into, as well as a few online shops I have stumbled upon over the years to shop for some more inspiration!
Collectif Menswear
First of all, I had to mention the new Collectif Menswear that is due to drop this Autumn – because the promo images excite me! Plus, it did inspire me further to write this post.
I have been shopping with Collectif for many years now – they have a great mix of vintage and more modern lines, from a variety of eras now. I feel they offer a more easy-to-wear vintage style. From the images released so far, I can see leather jackets (ala Grease Lightning style), crisp shirts with sharp collars and cool prints. This really is one to watch – make sure you're following on Instagram for further image teasers and info!
Shirts & Suspenders
A classic 1940's look is usually a tailored suit, a shirt with a sharp collar, wide trousers and suspenders. This can be an easy starting point in my opinion; a modern suit can be accessorised with suspenders and a fedora hat to give it a vintage twist.
Revival Vintage is an online true and reproduction vintage store that caters for men and women. I have purchased a reproduction dress from them in the past, but I have also browsed their menswear. They have a great variety of shirts, waistcoats, trousers and other menswear items. The website is easy to navigate and with a blog to guide you with whatever style you are looking for!
White Tees and Blue Jeans
One of the most iconic look from the 1950's, a white t-shirt and some blue turn up jeans is also an easy way to get into vintage style. Adding a leather or varsity jacket and a pair of converses can bring full 'Grease' vibes to the look. It may seem cliche, but I do love the style!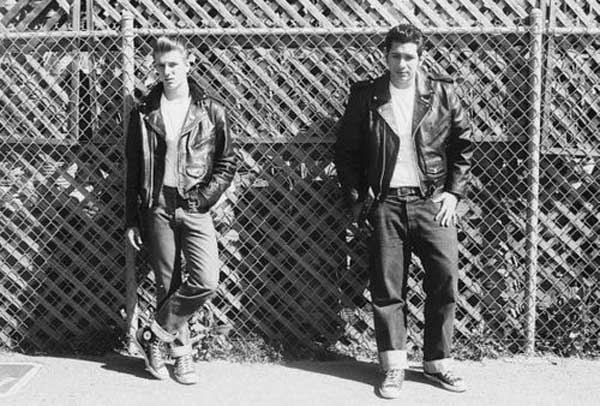 There is so much choice our there when it comes to vintage style menswear – I feel like my suggestions are the tip of the iceberg! There are cardigans, bowling shirts, sweater vests, preppy styles, mod looks… the list goes on.
Below are a few more suggestions of where to shop that I have come across in the past –
Vintage Menswear Directory
---